Doula Services

OK, so childbirth may not be your most fabulous moment, but at Fabulous and Expecting we believe that with the right support you will come out smiling and looking back at the experience with only fond memories.

A Doula can make this happen!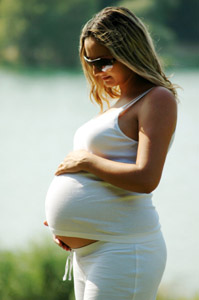 What is a Doula?
The word "doula" comes from the ancient Greek meaning "a woman who serves" and is now used to refer to a trained and experienced professional who provides continuous physical, emotional and informational support to the mother before, during and just after birth; or who provides emotional and practical support during the postpartum period.
Why use a Doula?
Does the thought of your birthing experience give you dread?
Do you feel your husband is up for the task?
Do you not have the support in the area?
Are you nervous about a not remembering your breathing techniques?
The use of a Doula has proven to:

Shorter labors
Reduced need for pain medication
Fewer episiotomies
50% reduction in C-Sections
Healthier babies
Better mother- infant interaction
Greater satisfaction with the birth
Reduction in the use of artificial Oxytocin
40% reduction in the use of forceps
60% reduction in the request of epidurals and more

What Doulas can do:

Information on childbirth options
Formulating ideas for birth
Labor support at home, hospital, or birthing center.
Ensure comfort for expectant woman and partner during labor and birth
Massage
Boost confidence
Offer suggestions for positioning changes
Relaxation techniques
Reminders to stay hydrated and empty bladder
Reassurance and prospective
Can act as an interpreter of some medical information

At Fabulous and Expecting we recognize that giving birth is an experience that will always stay with you. Our team of Doulas is specially trained to offer that continuous support that works with a woman and her partnerís own comfort level.

We also realize that for many expectant fathers it can be culturally inappropriate to be so intimately involved in the process of birth.

We understand that many partners may view the idea of a Doula as ďtaking over their jobĒ. Our Doulas are here only to enhance this experience for both you. We understand that labor can take days, that emotions get heated, and that the amount of information that is coming to you can be overwhelming. We will allow your interaction with your laboring partner to be positive while we focus on being an extra set of hands, allowing for breaks, and bringing that familiarity to the birthing process that is priceless.

Please note that Doulas are NOT medical providers and will not make any decisions for motherís or babyís medical care.
| | |
| --- | --- |
| $700 includes 1-2 visits before labor, Doula for the labor and birth, and during the postpartum period until mom and baby is comfortable. | |
Baby Nurse Doula

Our Doulas and Nurses are available to assist with that bundle of joy during those first trying weeks of life. Experienced mothers know that partners have to go back to work and family members are usually more of a bother than a help. We believe that all mothers need an experience person to help them with their baby during those first few days or weeks. We offer:
Breast/Bottle feeding support
Night feedings
Allow mom adequate naps
Burping techniques
Diapering
Cord and circumcision care
Bathing and swaddling
Charting: bottles and diapers
Prices: Doula: $29 an hour
Additional: $3 for nights,
and $3 for multiples

Nurse: $35 an hour
Additional: $3 for nights, and $3
for multiples
Mothers Helper
At Fabulous and Expecting we understand that being fabulous doesnít mean you have to do it all. Let our Motherís helpers come and assist you once home from the hospital.
Our specially trained staff will be at your beckon call, why hope family members will help out that first couple trying weeks when you can have the peace of mind your family needs will be met.
Our staff will:

Clean the house
Do Laundry
Buy groceries
Run errands
Prepare meals
Assist with a crying baby
Play with your older children
Let you nap
Price: 2 hour package: $42,
each additional hour $21